Australian Critics of Scientology
This page maintained by David Gerard.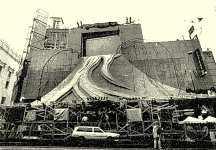 Press articles about Scientology in Australia
"This is correct procedure: 1. Spot who is attacking us. 2. Start investigating them promptly for FELONIES or worse using our own professionals, not outside agencies. 3. Double curve our reply by saying we welcome an investigation of them. 4. Start feeding lurid, blood sex crime actual evidence on the attackers to the press."
- L. Ron Hubbard, PR Series 24

See also:
---
Information for reporters
"Since Scientologists know how the Fourth Estate operates, it's time the journalist had a chance to learn some of the attitudes, rules, tactics, and tricks known only to Scientology" - Robert Vaughn Young

"See the matter through to a completion including the discrediting of the attacker." - 1974 CoS policy letter
Scientology from inside out: A former insider reveals strategies for managing the news media by Robert Vaughn Young (from The Quill, The Magazine of the Society of Professional Journalists, Nov-Dec 1993, p38-41). RVY handled media and public relations for Scientology for twenty years.
Training to deal with reporters - Once you've dealt with a few CoS PR officers, you'll find it's like dealing with the same person over and over - seeing the Training Routines they use will help explain why.

Tallulah's commentary - why Scientology PR people so often come across as being completely insane. "I just can't resist commenting on some of these - I swear, there are real live media trainers out there who charge BIG BUCKS for this stuff."

Hostile Contacts - How to get rid of a hostile reporter. "A newspaper publishes its third entheta [critical] article. Legal plays a hard line and PR plays the part of the peacemaker until a retraction and legal settlement is made. Documentation is then sent to all press, the Press Council and journalists and individual reporters. The documentation has a plea for reform and clean up of ethical standards. The result: the reporter in question will no longer be on staff."
Enemy Names - how the CoS will attempt to ascertain your sources, so as to attack them personally.

See also Andreas Heldal-Lund's analysis of Enemy Names.
The CoS has been kind enough to verify Enemy Names with legal threats - December 1997 and January 1998. They really don't want people reading this one.

Attacks on Scientology - the CoS views any investigation whatsoever as an 'attack'. (This is the source of the quote at the top of this page.)
Targets, Defence - "Experience has shown that defense is only effective when one sorties or attacks ... The vital targets on which we must invest most of our time are: T1. Depopularizing the enemy to a point of total obliteration. T2. Taking over the control or allegiance of the heads or proprietors of all news media ..."
Intelligence Specialist Training Routine: TR-L - "Purpose: To train the student to give a false statement with good TR-1. To train the student to outflow false data effectively."
Black Propaganda - "Black propaganda is a covert communication of false data intended to injure, impede or destroy the activity or life of another person, group or nation, usually issued from a false or removed source from the actual instigator." This one should be correlated with Attacks on Scientology above.

Perry Scott's commentary - "Well thanks, Ron. Now I get it. The other people lie but we don't. Our propaganda is merely dirty and not black ... Hubbard wrote Guardian Orders. These orders are being recycled for use by OSA. There should be no doubt that the two organizations are the same; the names were changed to confuse the innocent."

Operations Officer - this gives the lie to the frequent assertion that local CoS offices are not linked to the US offices. "Ops Officer is responsible for the planning, researching and carrying out of ops (planned and put together locally and approved by US Ops or sent down from US) ... One particular occupational hazard is that you are training these people to lie well, deceive, be tricky."
Robert Vaughn Young: Preparations for a press conference during the FBI raids on Scientology in the late 1970s. "The press conference was set for something like noon, so we only had a couple of hours for all the preparation. Meanwhile, downstairs and at the end of the hall, scores of FBI agents were prowling through offices and files, hauling boxes of documents down the elevator."
---
---